QUEZON IS HOME: The unveiling of former president Manuel L. Quezon's original portrait by national artist Fernando Amorsolo was the highlight during MLQU's Quezon Day celebration on Aug. 19. Photo shows (from left) former trade secretary Peter Favila, New San Jose Builders chairman Jose Acuzar, Quezon City Rep. Feliciano Belmonte Jr., former senator Wigberto Tañada, CHED executive director Julito Vitriolo, MLQU president Isagani Germar and PRC chairman Eduardo Ong.
MANILA, Philippines – Following exponential growth in its law enrollment rate in school year 2015-2016, Manuel L. Quezon University made another significant move to Quezon City last Aug. 19, coinciding with the 138th birth anniversary of the city's visionary and former Philippine Commonwealth president, Manuel Luis Quezon.
Dubbed "Quezon is Home," the event featured MLQU's symbolic move to continue its legacy from Quiapo, Manila to Quezon City with the unveiling of the late president's portrait done by the late National Artist Fernando Amorsolo.
Just like the school, the city was named after the former president and it celebrates Quezon Day every Aug. 19.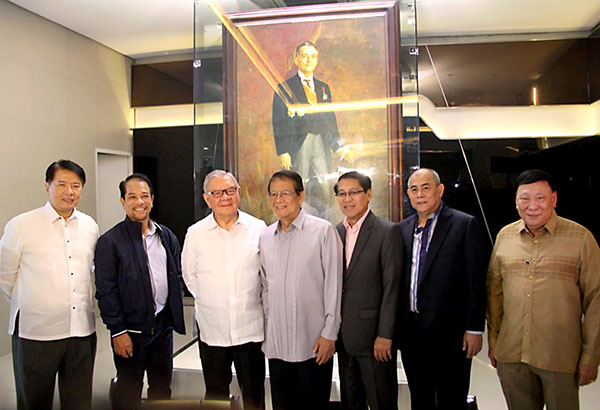 The event was held at the MLQU School for Professional Advancement and Continuing Education (MLQU SPACE) located on EDSA near the MRT-Kamuning station.
Quezon City Rep. Feliciano Belmonte Jr., former senator Wigberto Tañada and former trade secretary Peter Favila joined in the celebration led by MLQU and New San Jose Builders' chairman Jose Rizalino Acuzar and MLQU president and NSJBI co-chairman Isagani Germar. Commission on Higher Education executive director Julito Vitriolo and Philippine Regulatory Commission chairman Eduardo Ong were also present during the occasion.
Pioneering programs to mark QC expansion
MLQU has also commenced its partnership with distinguished groups to introduce pioneering programs, signaling its entry to QC's roster of esteemed academic institutions.
Homepage ( Article MRec ), pagematch: 1, sectionmatch: 1

University officials forged a deal with the Chamber of Real Estate and Builders' Associations (CREBA), the largest real estate umbrella organization in the country, with the signing of a memorandum of understanding.
Under the MOU, CREBA will provide students to MLQU who wish to attain a career in real estate management.
Moreover, CREBA and MLQU will create training modules that aim to acquaint students with real estate law in relation to commercial, rental and private property.
Bloomberg and East West Educational Specialists are collaborating on several initiatives such as the Bloomberg EWES Certified Financial Markets Professional Program, Faculty Development Programs and Bloomberg Professional Service Practicum Program, which include international exposure to integrate the Bloomberg terminal application into EWES course curriculum.
In collaboration with MLQU, East West shall conduct certification programs and review classes for different courses and programs for all students and graduates of MLQU in accordance with the requirement and standards of the CHED, Bloomberg LP and Chartered Institute for Securities and Investment and Securities and Exchange Commission.
In its plan to beef up its architecture and engineering programs, MLQU partnered with American Concrete Institute-Philippine Chapter and Association of Structural Engineers of the Philippines for programs aiming to develop both the students' and professionals' knowledge and practice in structural engineering.
ACI has been in the Philippines since 1995 and advocates concrete quality and upliftment of the concrete industry.
Meanwhile, ASEP is respected as an authoritative leader in the practice of structural engineering.
In October 2014, property developer New San Jose Builders acquired ownership of the 69-year-old MLQU. Since then, NSJBI has joined MLQU's dream of helping Filipino students achieve a better life through education by upgrading the school's facilities as well as expanding its students' opportunities.
In 2015, MLQU opened SPACE in the Victoria Sports Tower along EDSA. Developed by NSJBI, Victoria Sports Tower boasts of five floors with sports and social club features replete with the most advanced indoor sports complex, business amenities, wellness and fitness centers and luxurious lobby tailor-fit for sophisticated business meetings. The site also offers MLQU students an accessible and conducive learning environment.
MLQU continues to expand as another campus will soon rise in Timog Avenue to open up more college courses in the coming years.
Visit MLQU SPACE for more information about the latest programs and certification offerings or contact 683-2327 local 122 or 129. Visit the website at www.mlqu.edu.ph or its official Facebook page at www.facebook.com/mlquofficial.